Can Rosacea Prone Skin Be Helped Naturally?
"We've dedicated ourselves to creating a specialized product line for those with skin prone to rosacea."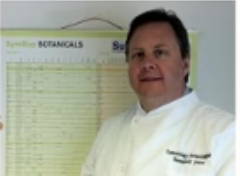 John Hamilton, Co-Founder, Natural Elements
25 years experience in dermatology

(skin disorder & anti-ageing cell research)

"I tried the samples sent, both the rosacea prone and the sensitive, on separate sides of my face and found great results with both.
My skin is much more comfortable and a lot less red. The soreness is much reduced, as are the spots, even after a very short time.
I will go forward with a full sizes of the rosacea prone system, as it seems to be giving me relief and i'm having the greatest success with these.
Here's hoping for a long-term solution.
Thank you"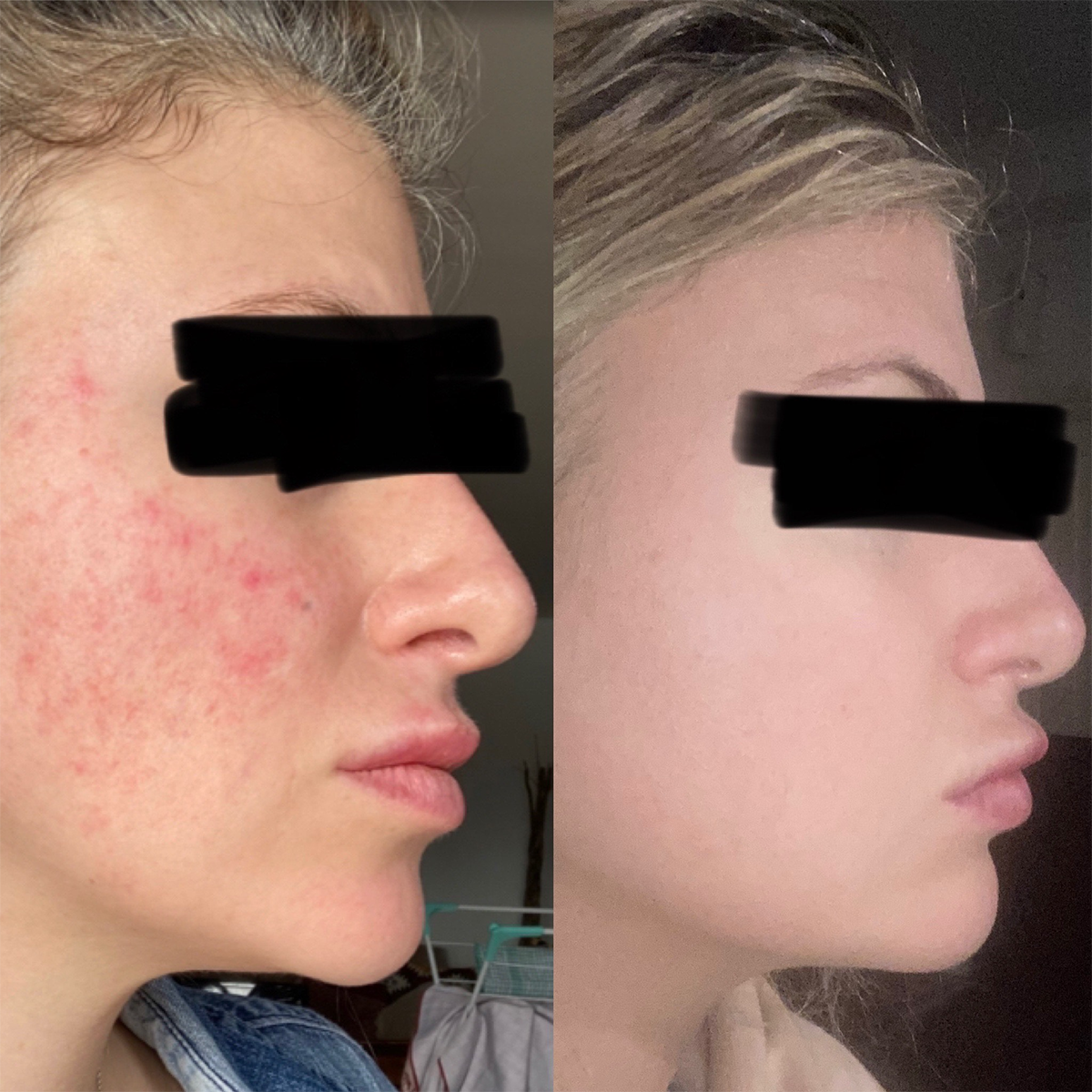 Erythematotelangiectatic Rosacea:
This first subtype is characterized by facial redness, flushing, and visible blood vessels.
Papulopustular Rosacea:
Also known as acne-like rosacea, this second subtype manifests as spots and blemishes.
Phymatous Rosacea:
This less common third subtype is associated with skin thickening, particularly on the nose, and is more prevalent in men.
Ocular Rosacea:
The fourth subtype primarily impacts the eye area.
Multi-Chemical Sensitivity (MCS):
Additionally, skin that is sensitive to allergies can mimic rosacea symptoms, as can Multi-Chemical Sensitivity (MCS).
Medical professionals often struggle to distinguish between these conditions, leading to incorrect diagnoses and inappropriate treatments like antibiotics or creams.
MCS can exacerbate the issue through a faulty diagnosis.
Rosacea and MCS look almost the same.
That's why we offer two distinct sample sets: one for those susceptible to rosacea and another for those with MCS-induced skin sensitivity. Our natural skincare formulations made a significant difference for so many of our clients in managing these conditions.

Our products are effective for problematic skin because they lack the synthetic chemicals found in the vast majority of skincare products, including medical-grade ones.
If you are completely at a loss with your doctor over their rosacea treatment, you are not alone.
The hundreds of people who come to us daily feel the same, but we will help.
If your skin is worrying you and would like to talk about it, you are welcome to get in touch with our chief consultant
Find out why our products work so much better.
The natural ingredients in our skincare line can be a game-changer, as they support the body's self-healing process without irritating the skin. They also offer a protective barrier against makeup chemicals.

For men, avoiding conventional shaving foams and gels is crucial, as these products are laden with synthetic chemicals.
Finally, we're also deeply committed to environmental sustainability, ensuring that all our ingredients are eco-friendly, made in the UK and our packaging is recyclable.
Which is most suitable for me?
To find the most suitable natural formula for you, we can provide sample sized versions of both product types;
* for rosacea prone skin
* for allergy/extra sensitive skin.
Once we identify which works best for you, you should transition to using the full-sized value packs but, please remember to steer clear of harmful chemicals, including those present in sunscreens whilst using the samples.
Reviews from Verified buyers:
"Brilliant products; I definitely recommend these excellent products and love the 2 different samples one for Rosacea and one for ultra sensitive skin. And your advice about putting one product in one half of the face and the other product on the other side of the face was just great. It looks like the ultra sensitive products are smoothing my face even after a Dr.'s diagnosis of Rosacea many years ago.
I will definitely buy the full sized products.
Thank you for your wonderful products which are a game changer after trying so very many and wasting £££s. Your advice was amazing and great service too.
Perfect all round."
"A Rosacea kit that works.
I have been using this kit twice daily since April 2023 and it greatly improved the appearance of my rosacea acne prone skin.
My skin feels hydrated and looks much clearer. It also helps with the occasional flare ups after eating spicy food.
Highly recommended."
"I used the sample kit for the Rosacea prone skin.
After I finished the sample kit I bought the full size kit and it has made a big difference to my skin. It isn't as red and the bumps seem to be going down. I think this is my 3rd week.
I really would recommend your skin care, as it's the first time I have seen big results.
Thank you so much, my skin looks amazing."
Individual Full Sized Products Suitable For Rosacea Prone Skin:
"Excellent products. I have tried the face wash, facial oil and moisturiser and my skin is so well nourished and less red and blotchy than before. Smell and texture are great too. Highly recommended." 👌👍🏼
"I was initially worried about putting anything on my face apart from cold water, but relieved to say that these products really did sooth my burning skin, healed up completely within a couple of days and the oil moisturiser works wonders on dry skin.
Definitely recommended."
"I was diagnosed with acne rosacea about 4-5 weeks ago and saw this these products so thought I'd give them a try as nothing else had worked.
I'm so glad I did; my skin feels better than it's felt in years and my rosacea has settled completely."
Alternatively, if your skin is worrying you and want to talk about it first, please get in touch.
You are welcome to fill in the form and we will be in touch.